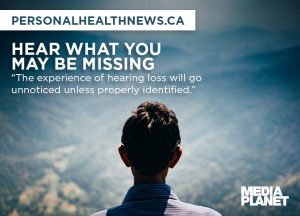 We are very excited to announce that CAA has two articles in the National Post Hearing Health campaign.
The Hear What You May Be Missing by Marlene Bagatto, President of CAA and Bill Hodgetts, Past President of CAA discuss the impact of healthy hearing and encourage everyone to include an Audiologist visit in their regular health management routine.
Steve Aiken, Jillian Price, and Bill Hodgetts were interviewed for Only You Can Prevent Hearing Loss which reviews hidden hearing loss and the importance of protecting our hearing.
The National Post campaign publication reaches a readership of over 896,000 Canadians, and includes publication in two platforms:
An online publication called Personal Health News, and
The print publication of the National Post newspaper Wed May 31, 2017.
Please share these links with your colleagues and clients.
Hear What You Might Be Missing
www.personalhealthnews.ca/prevention-and-treatment/hear-what-you-may-be-missing?utm_source=client&utm_medium=social
Only You Can Prevent Hearing Loss
http://www.personalhealthnews.ca/prevention-and-treatment/only-you-can-prevent-hearing-loss