CEUs
Continuing Education Credits
CAA offers Continuing Education Credits (CEUs) at the CAA Conference. To obtain Continuing Education Credits use the tracking form that is included in your Conference material. After the conference, you will receive an email from CAA acknowledging your proof of attendance. It is your responsibility to keep the following for 5 years: This completed tracking form, The email of proof of your attendance and Your conference payment receipt. 1 hr = 1 CEU credit.
International Hearing Society (IHS) CE credits
CAA Conference is Approved for International Hearing Society (IHS) CE credit. Each session will include a sign in sheet for CE Credits for the International Hearing Society (IHS). Please make sure you complete the sign in sheet for each session you attend. You must also contact us with additional information. Credit receipts will be emailed to you within 2 months of the Conference.
Association of Hearing Instrument Practitioners of Ontario (AHIP)
CAA Conference is approved for CE credits for AHIP members. Please use the CAA CEU tracking form and complete the Certificate of Attendance above.
American Academy of Audiology  (AAA)
The Canadian Academy of Audiology is approved by the American Academy of Audiology to offer Academy CEUs for this activity. The program is worth a max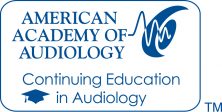 imum of  1.40 CEUs. Academy approval of this continuing education activity is based on course content only and does not imply endorsement of course content, specific products, or clinical procedure, or adherence of the event to the Academy's Code of Ethics. Any views that are presented are those of the presenter/CE Provider and not necessarily of the American Academy of Audiology. Note you can track the sessions using the CAA tracking sheet, but most sessions are worth .75 CEUs. You must also complete the online survey for each session you attended.
No CEUs for sponsored breakfasts or product demos.