Audiologists in Canada are trained to test hearing and balance function, perform advanced audiological tests, assess middle ear problems, prescribe and assess hearing aids, perform aural (re)habilitation and work with cochlear implants and other implantable devices. In addition to performing these clinical duties competently, audiologists possess valuable and important skill sets such as effective listening, analytical and critical thinking skills. Audiologists are also good advocates, leaders and effective communicators as they aim to improve the lives of adults and children by collaborating with otolaryngologists, speech language pathologists, auditory-verbal therapists, educators, teachers of the deaf, rehabilitation specialists and/or counselors. As the field changes and as our skills are recognized by others, Canadian audiologists are translating their training, education and skills in exciting roles and positions. Therefore, we are starting a new feature in the blog called "Beyond-the-Booth", which aims to capture the diversity of our practice across Canada.
Our inaugural "Beyond-the-Booth" features the role of an Audiologist in practice leadership. We interviewed Tanis Howarth, who is the Provincial Senior Practice Lead for Audiology in Alberta Health Services. Alberta Health Services delivers integrated healthcare to the entire province of Alberta.
How did you get into the profession of Audiology and what career development opportunities were available to you?
I grew up in Edmonton, and completed an undergraduate science degree at the University of Alberta in psychology and chemistry in the mid-1980's.  I spent a year working as a research and teaching assistant, thinking that grad school and neuroscience were where I was headed.  During that same time period, I took a summer course in speech-language pathology and audiology, and discovered that they piqued my interest more than anything else I had studied to date.  That would be the start of my career trajectory into Audiology.  I completed a thesis and graduated from UBC with a Master's degree in Audiology in 1991.  I spent a significant portion of my career at the Glenrose Rehabilitation Hospital in Edmonton where over the course of nearly twenty-five years I had the opportunity to practice as a clinical audiologist serving both adult and pediatric populations, act as the coordinator of the cochlear implant program, and serve as the manager of the audiology service.  Each of these roles, were career development opportunities that presented themselves along the way, and within each role there were innumerable opportunities for me to learn and grow and to make a positive difference.
Has there been an experience with a patient that was particularly memorable?
The first permanent bilateral hearing loss that I identified was in a child who was just under a year old, I will never forget the experience: I learned so much about how important it is to listen to what matters to families. There is no doubt that the audiologist I am, is a consequence of the experiences I have had with patients and their families in the course of my career.
What is your current position and what does that entail?
Just over a year ago, I accepted a provincial leadership positon as the Senior Practice Lead for Audiology with Alberta Health Services. In this role I am responsible for practice leadership for audiology across multiple service sectors and the continuum of care. I lead the development of audiology specific policy, standards, and guidelines. I provide practice consultation to a wide variety of people: clinicians, operational leaders, external partners and planning leaders regarding all aspects of practice related to audiology.
In addition to supporting the practice of Audiology, in the role of Senior Practice Leader, I am also responsible for provincial projects related to rehabilitation.  Currently I am leading work on the development of a provincial Community Rehabilitation Model of Care to support consistent evidence informed community rehabilitation service delivery across Alberta.
Alberta is in the process of implementing a provincial Early Hearing Detection and Intervention (EHDI) program. What is your unique role in this process as the Senior Practice Leader?
As part of my current role, I chair and participate on a number of committees that are related to the oversight, planning and implementation of the Alberta EHDI program.  I work alongside leaders in Public Health whose portfolio is responsible for the EHDI program, operational leaders who need to implement the program in their areas, and the clinical experts who inform the evidence base the program needs to be built on. A large part of this role is about connecting the right people together and supporting decision makers to have the clinical and practice information they need to make well informed decisions.
What is a typical week like for you?
In a typical work week, I answer a wide variety of audiologists' and operational managers' questions about audiology, work on audiology practice support documents and guidelines, respond to regulatory questions about the practice of audiology in Alberta Health Services and participate in a wide variety of meetings to ensure the voice and practice of audiology is represented within Alberta Health Services.
What advice do you have for prospective and current audiology students? What about current audiologists who are considering your type of work?
Audiology is a field that has a diverse range of career options and opportunities:  You can start in one place and land in a very different one over time.  That journey might be one that occurs as a result of careful planning, or it could be like mine – a trip that will unfold as you acquire experience, meet all kinds of people, develop new interests, and discover things about yourself.  It is a dynamic field with lots to offer over the course of a career.
For people who might be considering the type of role I am in currently, I think it is important to build a well rounded complement of leadership competencies, and to think of audiology in larger contexts – within rehabilitation, within public health, within healthcare – beyond the booth for sure.
Authors: Tanis Howarth, Melissa Polonenko, Homira Osman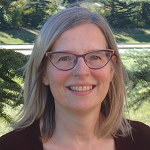 Tanis Howarth

Melissa Polonenko

Homira Osman
Contact Us