Reports, Scope, Guidelines and Position Statements
Canadian Academy of Audiology Position Statement on Over-the-Counter Hearing Aids
Date: November 15, 2022
Committee Members: Marlene Bagatto, Steve Armstrong, Steve Aiken
This position statement represents the Canadian Academy of Audiology's (CAA) position on a particular topic or area of practice. It provides a time-limited viewpoint that will be reviewed and revised as new information arises.
Position
Recently, the U.S. Food and Drug Administration (FDA) finalized legislation creating a category of over-the-counter (OTC) hearing aids (FDA, 2022). These medical devices are subject to regulations designed to ensure safety and reasonable quality, while aiming to relieve the negative impact of perceived mild-to-moderate hearing loss in adults.
It is the position of the Canadian Academy of Audiology (CAA) that OTC devices may improve hearing access for some adults with mild-to-moderate hearing loss. However, the lack of similar legislation in Canada may allow underperforming and hazardous technology to enter the market, with significant risks for Canadians with hearing loss…
---
Canadian Infant Hearing Task Force (CIHTF) at the Canadian Paediatric Society Conference
The Canadian Infant Hearing Task Force (CIHTF) attended the recent Canadian Paediatric Society Conference with an exhibit booth. Our thanks go to Claude-Anne Turmel (audiologist) and Kayla McNally, ED of the CMV Foundation of Canada, for attending and engaging paediatricians in building awareness of the need to have Early Hearing Detection and Intervention (EDHI) programs implemented in all regions in Canada. For the first time, the CIHTF was joined by the CMV Foundation to emphasize the importance of screening for CCMV, the most common viral cause of hearing loss in newborns. Visitors to the booth were grateful for the information and support of newborns and infants. Reference and follow up materials were available as take-aways. This effort was sponsored by the CMV Foundation of Canada, CAA and SAC.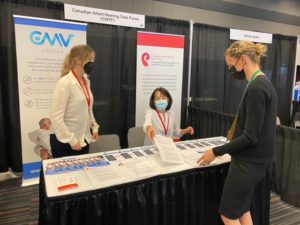 Canadian Infant Hearing Task Force (CIHTF) Report Card
The Canadian Infant Hearing Task Force (CIHTF) has released their 2019 Report Card on the status of early hearing detection and intervention (EHDI) programs in Canada at a press conference on Parliament Hill. The 2019 EHDI Report Card exposes an alarming disparity in the hearing health services available to infants and children in Canada. The new report card also reveals that little has changed since the CIHTF's 2014 EHDI Report Card, with Canada once again receiving an overall grade of "insufficient." For a complete overview of these findings, please visit here.
Provincial and Territorial Results
While the CIHTF is pleased to report that Alberta, the Northwest Territories and Yukon have improved from insufficient in 2014 to a sufficient grade in 2019, they are disappointed to report that more than half of the provinces and territories in Canada have received an insufficient grade. In the case of two provinces (New Brunswick and Prince Edward Island), their overall grade fell from sufficient in 2014 to insufficient in 2019. For more information about the grades and recommendations for each province and territory, please visit here.
---
Canadian Infant Hearing Task Force (CIHTF) Position Statement on Universal Congenital Cytomegalovirus Screening in Canadian Newborns
The Canadian Infant Hearing Task Force (CIHTF) and the Canadian CMV Foundation are excited to release a position statement to support advocacy across Canada to implement universal screening for congenital cytomegalovirus (cCMV) in newborns. cCMV is the leading non-genetic cause of neurologic disabilities and permanent hearing loss worldwide and antiviral treatment can often improve hearing and developmental outcomes.
The CIHTF is a comprised of CAA, SAC and has members from Paediatrics, Otolaryngology and other disciplines.
Full position statement English
Full position statement French
---
Scope of Practice
Position Statement on Audiology Scope of Practice
February 2002
"The scope of practice of audiologists is defined by the training and knowledge base of those who are licensed or otherwise regulated to practice audiology. The central focus of the profession of audiology is on human hearing, both normal and impaired, and its relationship to disorders of communication."
Preamble
The purpose of this document is to define the profession of audiology by its scope of practice. The following document provides a broad description of activities that fall within the profession of audiology, but is not intended to be an exhaustive list of activities in which audiologists engage. Practice activities that are related to emerging clinical, technological, and scientific developments are not precluded from consideration as part of the scope of practice of an audiologist and such innovations and advances will result in the periodic revision and updating of this document.
This document is intended to serve as a reference resource for the following groups: (1) audiologists, (2) allied professionals, (3) consumers of audiological services, (4) general public, (5) provincial governments, (6) federal government, (7) third party insurance companies, and (8) regulatory and/or professional licensure bodies.
Definition of an Audiologist
An audiologist is an independent, professional provider of primary hearing health care, who specializes in the prevention of hearing loss and in the identification, assessment, diagnosis, management, and treatment of hearing and balance disorders. Audiologists hold a master's or doctoral degree in audiology from an accredited university, and are, in most provinces, licensed or otherwise governed by a regulatory body.
Audiologists serve in a number of roles including clinician, diagnostician, therapist, educator, consultant, researcher, and administrator. They provide clinical and academic training to students in audiology and related fields such as medicine, by teaching about hearing and hearing loss, the prevention of hearing loss, and the (re) habilitation of those with hearing loss. They provide information and training on hearing to other professions, including psychology, social work, education, and other related professions, and to business and industry. They develop and oversee hearing conservation programs for both occupational and recreational noise exposure. They may serve as expert witnesses within the boundaries of forensic audiology.
Audiologists provide services in hospitals, private practice, rehabilitation centres, public health settings, schools, government agencies and other environments in which audiological services are relevant.
---
Vestibular Assessment & Management for Canadian Audiologists: A Scoping Review
Canadian Academy of Audiology (CAA) and Speech-Language and Audiology Canada (SAC) are excited to announce the release of the Vestibular Assessment & Management for Canadian Audiologists: A Scoping Review.
* NOTE: The scoping review document and accompanying webinar do not represent a formal clinical practice guideline or a standard of practice. A scoping review is a document which summarizes some of the research findings in the literature and some of the commonly used practices.  It is not to be used as a regulatory document. 
CAA Members download the Vestibular Assessment
---
The American Academy of Otolaryngology–Head and Neck Surgery (AAO-HNS) Guidelines
The purpose of this guideline is to provide evidence-based recommendations for clinicians managing patients with tinnitus.  The target audience is any clinician, including non-physicians, involved in managing these patients. Patients with tinnitus will often be evaluated by a variety of healthcare providers including primary care clinicians, specialty physicians, and non-physician providers such as audiologists and mental health professionals. The target patient population is limited to adults (18 years and older) with primary tinnitus that is persistent and bothersome.
---
Joint Position Statement – Direct-to-Consumer Sale of Hearing Aids
This joint statement with CAA and SAC is currently being updated and will be posted on our website when complete.
---
Auditory Processing Disorder
---
Infection Prevention and Control Guidelines