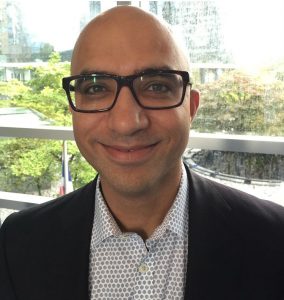 DATE: Tuesday, November 24th – 1 PM ET
SPEAKER: Gurjit Singh, PhD, reg. CASLPO Senior Research Audiologist, Phonak Canada, Adjunct Professor, University of Toronto; Ryerson University
Abstract:
Hearing loss is a highly prevalent and significantly disabling health condition, and the most common treatment is the provision of hearing instruments. Despite the availability of evidence supporting positive health outcomes associated with hearing instrument use, hearing aid adoption rates remain low. Why is this the case? Research investigating factors that contribute to hearing aid adoption focuses mostly on the role of personal factors (i.e., degree of audiometric hearing loss, personality, attitude, etc.) and demographic factors (i.e., age, gender, etc.), and only focuses somewhat on the role of external factors (i.e., cost, counselling, etc.). Critically, there has been an under-emphasis on understanding how interpersonal and contextual factors contribute to hearing aid adoption. This is somewhat surprising given decades of research on decision-making processes from other fields such as social and cognitive psychology. This presentation will consist of a brief theoretical review of frameworks relevant to better understand decision-making processes, a review of how modern data acquisition techniques can inform hearing rehabilitation research, a review of several large-scale studies investigating hearing aid adoption and associated hearing rehabilitation outcomes, and several concrete 'takeaways' designed to inform clinical practice.
Learning Points:
Attendees will be exposed to information about models of behaviour change.
Attendees will be exposed to examples of family-centred care practices.
Attendees will be exposed to research on the role of emotion in hearing rehabilitation
 SPEAKER BIO: Gurjit Singh, PhD, reg. CASLPO Senior Research Audiologist, Phonak Canada, Adjunct Professor, University of Toronto; Ryerson University 
Dr. Gurjit Singh works as a researcher in the long-term research division of Sonova AG. In addition to being a clinical audiologist, he completed degrees in social psychology focused on decision-making and a PhD in cognitive psychology. His research interests focus on factors that lead to success with hearing rehabilitation.