Remembering Mary Beth Jennings
Mary Beth Jennings passed away on May 5, 2020 from Ewing's Sarcoma at home with her husband Craig Martin by her side. Canadian audiologists and colleagues world-wide join together to offer our most sincere, and heartfelt sympathy to Craig, to Mary Beth's father Gordon (predeceased by her m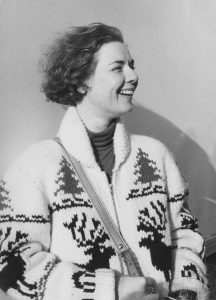 other Barbara) and to her brother Grant and his family. We also extend our sympathy to other family members and those who held Beth close to their heart.
Mary Beth made significant contributions to the field of audiology through her work in adult aural rehabilitation, family-centred care and counseling, innovations in workplace accessibility, participation for persons with hearing loss, and social stigma and universal design for hearing loss. She is well-known for the training of audiology and speech-language pathology students world-wide but especially in Canada. Prior to completing her PhD at Western, Mary Beth worked at The Canadian Hearing Society for 12 years where she developed and implemented individual and group aural rehabilitation programs (the Hearing Help Class curriculum) for adults. She was the driving force in providing an Elderhostel program that ran for 10 years.
Mary Beth received a patent and accolades for her work on developing the Self-efficacy for Situational Communication for Management Questionnaire (SESMQ). She made significant and lasting contributions to community-engaged aural rehabilitation and experiential learning for students. In addition, Mary Beth supervised many Master of Clinical Science students in Aural Rehabilitation practicums as well as several MSc and PhD students.
Mary Beth has published 10 book chapters, one just recently published, over 50 articles and shared her research and clinical knowledge through presentations world-wide, including prestigious invited lectures at the National Centre for Rehabilitative Auditory Research, the University of Pittsburgh's conference on the Art and Science of Teaching Auditory Rehabilitation, and the IDA Institute. She contributed to our profession through participation in groups including as a committee member for the 2016 World Congress of Audiology, and as an active member of an international Expert Circle on Family-Centred Care. She collaborated and published peer-reviewed articles with many people, including J.-P. Gagné, Kenneth Southall, Lynn Shaw, Ariane Laplante-Lévesque, Laya Poost-Foroosh, Louise Hickson, Christine Meston, Chris Lind, Kathy Pichora-Fuller, and Meg Cheesman.
Her colleagues and students remember her in the following ways:
"Mary Beth Jennings (Beth, to some) specialized in making people smile and laugh heartily, in encouraging us to reflect on how we are going to make the world a better place one day at a time, and in leading researchers in gerontology to include hearing and aging as a key component in their research. Mary Beth, a northern Ontarian by heritage, presented in magnanimous and humble ways but never wavered from her laser focus on the hearing, psychosocial and communication needs of older adults living with hearing problems (think stigma reduction in aging and hearing, as a prime example). A long, illustrious clinical career in aural rehabilitation and a prematurely truncated but productive and well-respected period in applied research, mark but only a part of her impacts on others. Mary Beth's research influenced the work of hearing and aural rehabilitation colleagues across Canada and internationally yielding productive collaborations with esteemed colleagues, clinicians and graduate research students. Her recent death is a monumental loss for all who knew her, who knew of her or who were touched directly or indirectly by her gentle, focused manner or her instrumentally influential research findings." From colleague and research collaborator JB Orange.
"Dr. Mary Beth Jennings was a conscientious researcher and PhD supervisor with a deep commitment to persons with hearing loss. With that commitment, she built relationships of trust with community members which allowed her to provide myself and other students with community-based aural rehabilitation training opportunities. Even in her difficult last years, she remained a firmly committed research supervisor, editing my dissertation between surgery and rounds of chemotherapy. Her strength and commitment to her work has made a lasting impact in my life, and I am grateful to have known and worked with her." From Raphaelle Koerber
"Mary Beth shared her passion for aural rehabilitation with so many students and audiologists during her career. I will always admire the integrity with which she conducted her research, her dedication to educating future audiologists, and her commitment to supporting individuals with hearing loss. Mary Beth set an example of how to be of service to your community and I will always carry that with me. She was a kind and compassionate supervisor and I am grateful for her guidance, mentorship, and friendship. I will miss her dearly." From Christine Meston
"I will always remember Mary Beth as a humble mentor and supervisor who while being unpretentious and tranquil, had a driving passion in the field of aural rehabilitation as a researcher and educator. Mary Beth's contributions to the field of aural rehabilitation are unquestionable and are reflected in her outstanding international reputation. But to those who worked closely with her, she was more than an outstanding researcher. She will be remembered as a warm and caring friend/mentor/colleague with gentle humor, and a love of classical music, indie movies, good food and coffee. The mark she left in her students' lives is a great one, and as such she will never really be gone." From Laya Poost-Foroosh
"Beginning in 2010, Mary Beth collaborated with us (Kenny Southall and J.-P. Gagné) on several research projects, mainly addressing the social and self-stigma associated with acquired hearing loss. A cherished colleague, Mary Beth made invaluable contributions to these projects with her skills in qualitative research, her impeccable clinical insights and her encyclopedic knowledge of audiological rehabilitation literature. Mary Beth is a dearly missed collaborator and friend." From research collaborators J.-P. Gagné and Kenneth Southall.
And from her colleagues at The National Centre for Audiology: "As friends and colleagues, we respected Mary Beth for her incredible knowledge about aural rehabilitation and her desire to ensure that students in audiology received opportunities for experiential learning in aural rehabilitation in the clinic and in the community. Her high standards for her own work were an inspiration to us all. As friends, we knew her as a kind, gentle person, a lover of books, orchids, Coronation Street, the Stratford and Shaw Festivals; and an enjoyable lunch-date. We most recently learned that her hidden talents included: playing piano and bagpipes, figure skating, being a master chef, tap dancing, knitting, and that she was an aspiring archeologist. If something silly struck Mary Beth as being funny she'd laugh so hard that she would be wiping tears from her eyes. Her infectious laugh would have you laughing, and soon you would be laughing hard along with her … and you didn't even know the end of the story yet, or what was so funny.
For her contributions to audiology research and practice; for her contributions to the education of students; for her contributions to making the lives of people with hearing loss better, we will remember Mary Beth. She taught us all that "People are beings for whom things matter" and for that we are forever grateful.
Photo courtesy of her husband Craig Martin.